Worm farms are fun to maintain and shouldn't become smelly or attract pests. If a problem does arise you might want to try one of these solutions.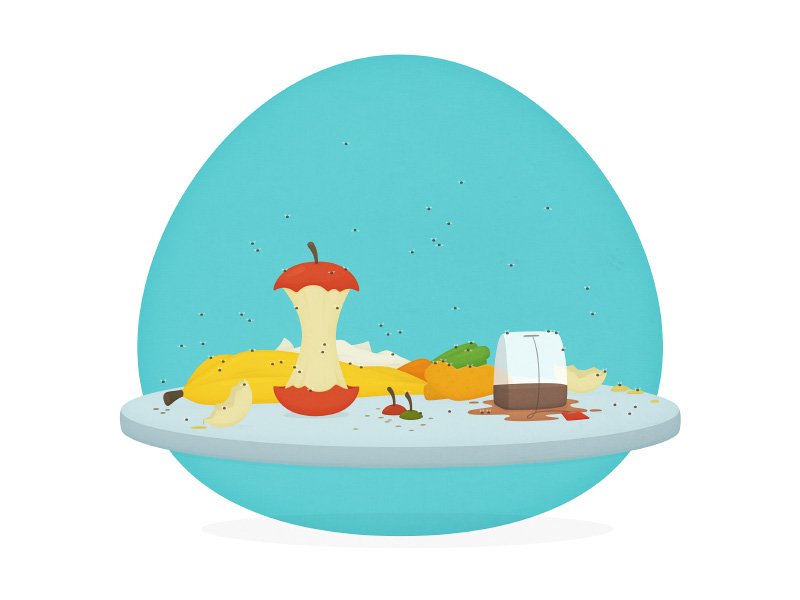 These tiny, annoying flies are a symptom of food rotting before your worms can eat it. Only feed worms as much as they are eating, chop up or blend food scraps, and don't let it build up more than 3-5 cm. Cover your worms with a worm blanket, old cloth, shirt, towel or damp newspaper.
Place a small bowl of water mixed with apple cider vinegar and few squirts of dish soap next to your farm overnight. This will attract and trap the flies, keeping them out of your farm.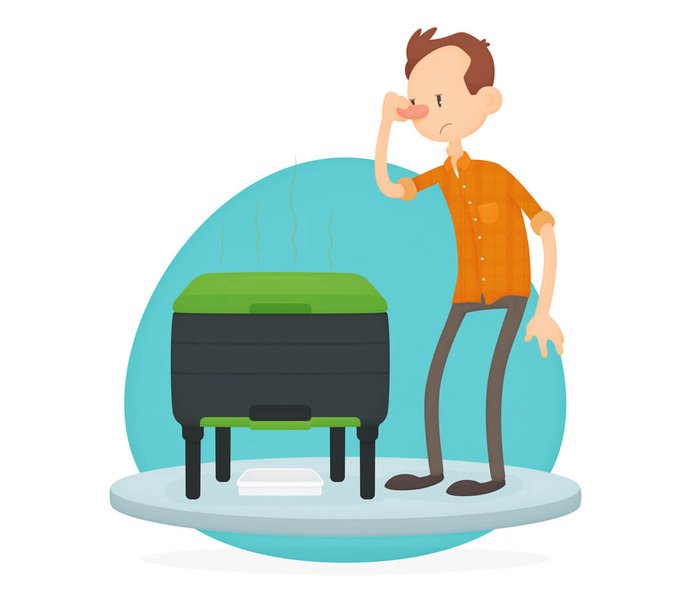 Tangy or rotten smells generally mean two things: 1) too much moisture and not enough oxygen (anaerobic); and 2) acidity - time to balance out your pH.
To tackle the first, mix in a source of dry organic materials such as newspaper or dry leaves to balance the moisture, nitrogen and carbon. This will help absorb and diffuse the moisture, improving ventilation. Also check that moisture is draining freely from your worm farm and that there are no dense clumps of food scraps in the farm.
To solve the second, sprinkle in some dolomite lime, ash, or crushed eggshells to balance out the pH. You can do this regularly to maintain pH, even if it doesn't smell. If the smell persists, reduce food scraps and mix up the bedding to increase ventilation.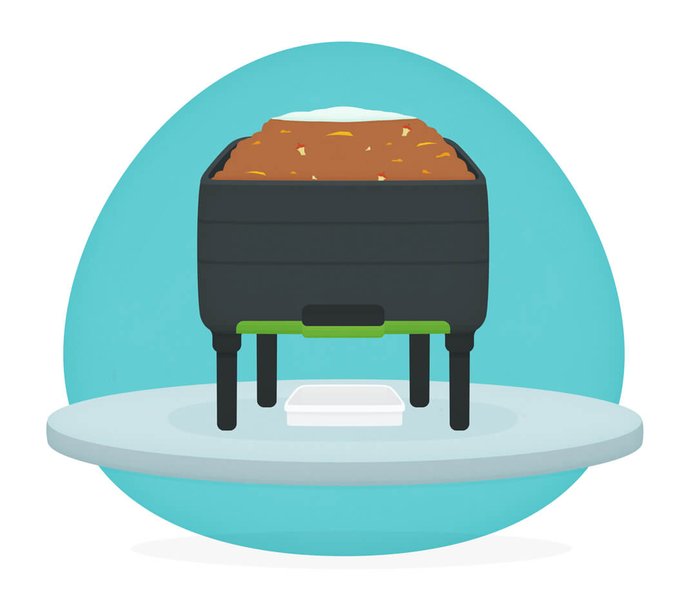 Check that you still have plenty of living worms. Only feed them as much as they eat, give them time to breed, then gradually start feeding them more. Add more worms if needed. Worms may not eat mouldy food, so you may need to take it out.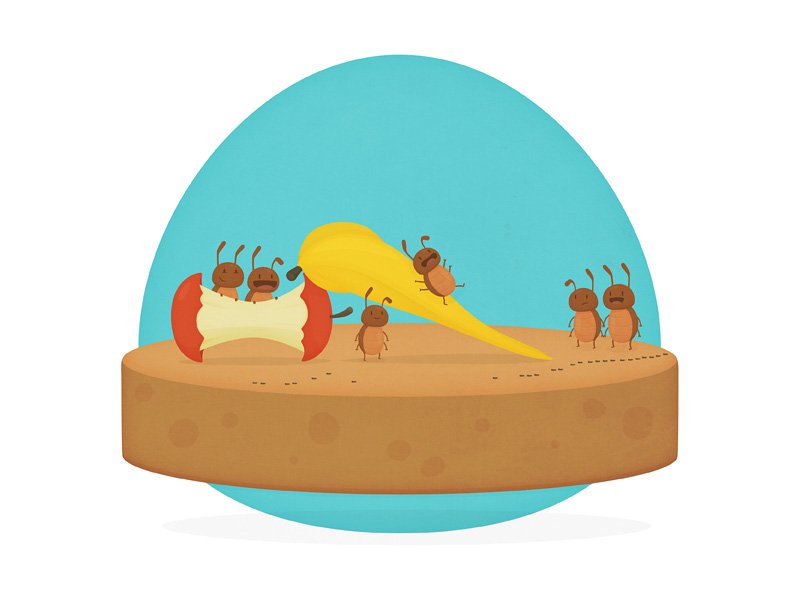 Ants or cockroaches indicate your worm farm is too dry. Pour 1-2L of water through the worm farm and gently stir to chase them out without hurting the worms. To prevent ants from getting in, put the legs in trays of water with a drop of oil or dish soap.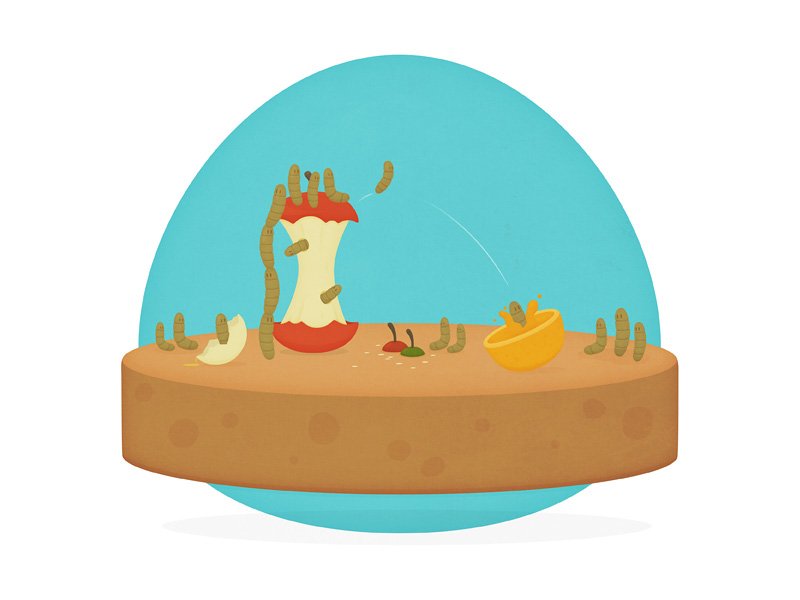 This means some meat or dairy probably made it into the worm farm. Place a piece of bread soaked in milk inside the worm farm overnight. This will attract the maggots, then just pull them all out in the morning.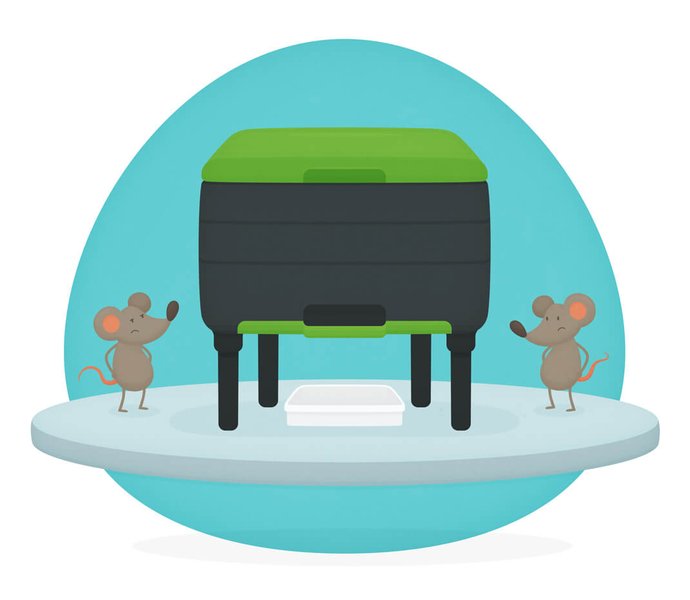 Stop feeding your worms for a week and just add wet newspaper. Check there are no holes allowing mice to get in. Peppermint oil and coffee grounds outside of the worm farm can deter vermin. Try adding extra coffee grounds to your farm as an added deterrent.
Tips
Chop up or blend food scraps, so they are easier for worms to eat.

Worm bedding should smell earthy like soil. If it starts to smell rotten, mix in a source of dry organic materials such as newspaper or dry leaves to balance the moisture, nitrogen and carbon. You can even sprinkle in some dolomite lime to balance the pH.
The worst case for any scenario is simple: empty the worm farm and start again with some new worms.
Compact worm farms generally service a small household (1-2 people) – if you have more scraps than your farm can handle, try adding a compost or bokashi bin, or upgrade to a larger worm farm.
It's best to avoid food waste in the first place by planning your weekly meals in advance - visit the Food Lovers Republic to learn more.
Did you know?
Worm farms aren't just home to worms. You'll see lots of other tiny creatures that are part of a healthy ecosystem, including spring tails, earwigs, mites and billions of microorganisms like bacteria you can't see.